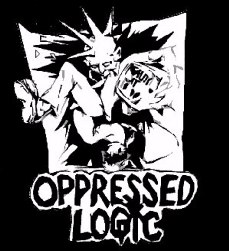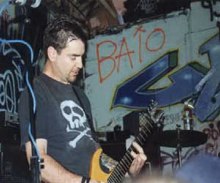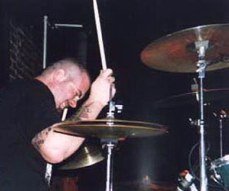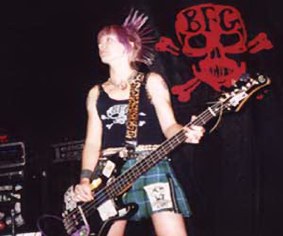 OPPRESSED LOGIC ARE:
Vocals -Mike(cycoloco) Avilez Guitar - Todd Dammit
Guitar - James Wysynski Bass - Adrienne Avilez and Drums - Jim ZBS
Formed in 1994 OPPRESSED LOGIC quickly became well known for, and continue to be surrounded by, controversy that brewed among the Bay Area's 'politically correct' crowd and has spilled all over the USA. The hype really exploded at the time of OPPRESSED LOGIC's debut 7" release, "P.C. Full Of Shit" on Beer City Records. The song and band motto "Fuck What You Heard!" will remain a heartfelt anthem as long as people misconceive rumors for the truth and continue to negatively act out over something they HEARD before getting any facts straight! Thanks for the laughs (somebody's got to have a sense of humor!) and the Free Publicity!!
TOURS: So far OPPRESSED LOGIC have successfully toured the USA four times around, gone to CANADA twice, and most recently went on tour to EUROPE this summer hitting Belgium, Netherlands, Germany, and England. Upon their return from EUROPE, OPPRESSED LOGIC, Violent Society and Special Duties (from UK) teamed up for a 10 day tour of California.
RELEASES: OPPRESSED LOGIC started with a demo tape titled "What They Want What The Fuck ?!" back in 1994 . "Pigs Suck" was a double 7" compilation that came out in '95 following an untitled split 7" with Canada's Armed & Hammered". ( Adrienne knew Armed and Hammered from Toronto where they all grew up. This connection of the two bands played a part in the story of Adrienne and Mike hooking up.) 1996 was the 7" release of "P.C. Full Of Shit!, put out by Beer City Records. "Ain't A Damn Thing Changed!" was OPPRESSED LOGIC's first full length with Beer City that was released on Vinyl in '97 and on CD in '98. In 1999 out came the long awaited split 7' release "Skinheads Smoke Dope With A Cheap Beer Hangover" with Punk Legends - Fang! "It's Harassment" came out in '99 on CD with Industrial Strength Records and as a vinyl release in '00 on Beer City Records.
APPEARED WITH: Over the years, OPPRESSED LOGIC has played over 500 shows !! Joining the bill have been (in alphabetical order): Accustomed To Nothing, The Aborted, ADZ, AFI, Agent Orange, Angry Samoans, Armed & Hammered, Awkward Thought, Banner of Hope, Benumb, Big Bubba, Blanks '77, Blood For Blood, Born Dead, Brehznev, Bristles, Bunchofuckingoofs, Chemical Imbalance, The Casualties, Capitalist Casualties, China White, Chaos UK, Confederats, Conflict, Dandare, Degenerates, Doomsday Device, The Dead Smurfs, Day-Glo Abortions, DRI, DOA, DI, Drop Kick Murphy's, Das Klown, Dandare, The Dead Smurfs, Decry, Douche Bags, Doomsday Device, Engrained, Fang, Face Value, Fear, The Forgotten, Good Ol' Boys, Gringo, Idiots, Intrepid A.A.F, JonBonnet Stranglehold, JFA, Jerkoffs, Knuckledust, Last Round Up, Last Years Youth, Lisafer, Los Crudos, Lowlife, The Lewd, MDC, Miscreants, Molotov Cocktail, The Murderers, Naked Aggression, The No-No's, Oozzies, Piss Drunks, Pressure Point, Powerhouse, Process, Quincy Punx, Rejected Motherfuckers, The Restarts, RKL, Randumbs, Redemption 87, Retox, Second Coming, Sex Offenders, Scarred For Life, Shitloads Of Fuck-All, Special Duties, STFU, The Strap-onz, SMD, Snap-Her, Sofa Glue, Special Duties, Suicidal Tendencies, Swingin' Utters, Total Chaos, Toxic Narcotic, Tattooed Corpse, Ugly Bastards, United Blood, The Unseen, Undisputed Heavyweight Champions, UXA, Varukers, Vandals, Violent Society, Very Metal, Working Stiffs, Wretched Ones, ZBS, Zeke, 17 Stitches, 46 Short and many more... OPPRESSED LOGIC have helped out many of these bands with shows and tours and in return so many of these bands have really come through for us while we were in their town! You know who you are! Cheers!! We have had some great times (and rough times !!) on tour with a lot of these bands and have some priceless stories (and photos) of crazy wild times on the road or as humble hosts here in Oakland. (Small wooden floor but hey... there's always the giant dog bed for the humans and Chopper to fight over... grrrrrrrrrrrrrrrrr!!!!!!!)
HOLIDAYS IN THE SUN: This giant punk festival was the grand finale of the EUROPE tour. It took place in a town in England named Morcambre by the Sea. OPPRESSED LOGIC shared the stage at the Dome Stadium with Sham 69, Vice Squad, Special Duties, Exploited, Condemned 84, English Dogs and many other old punk bands. The entire three day schedule was so crammed with killer bands it was just unbelievable!
THE FUTURE: OPPRESSED LOGIC are heading into the new year with the hardest most powerful sound ever. This is the tightest and fullestline-up musically, plus the most positive in attitude and ambition. 2002 will see the release of a new full-length that is being recorded early December. The band is putting amazing effort into what will no doubt be the strongest release to date.
Oppressed Logic stay true to their punk roots, and are passionate about keeping the underground scene alive at home and abroad. Watch for true energy & aggression from one of the Bay Area's most hard working, dedicated pissed off punk bands of today.