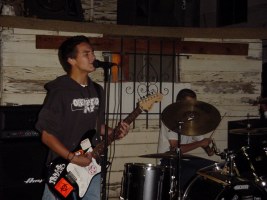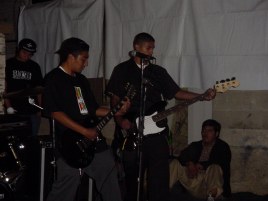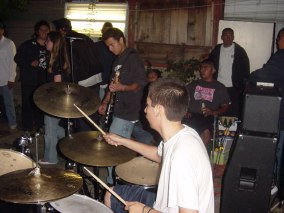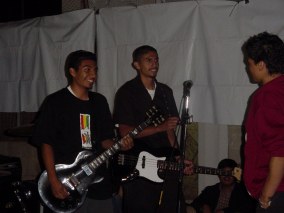 Interview With Miguel Shmuk

GeorgeKaotik: Hey how's it going?
Miguel Shmuk: Just chillin like always
GeorgeKaotik: How did you guys get the show in Mexicali?
Miguel Shmuk: Jimmy from obscene records got us that show. They asked him if he can bring some bands from his label.
GeorgeKaotik: So how many new songs did you guys record?
Miguel Shmuk: We did 6 new songs. And we recorded 2 old songs.
GeorgeKaotik: Which two old ones?
Miguel Shmuk: Who's to blame and tired of life. They are going to sound better and a bit faster
GeorgeKaotik: Oh OK coo
GeorgeKaotik: Who are you guys going to do the split with?
Miguel Shmuk: At first it was going to be with the vomits. But now we are going to do a small demo and later release our LP
GeorgeKaotik: Where do you guys do most of your recording?
Miguel Shmuk: skulphuk studios! Its in San Pedro. kinda far but Mario over there is really coo.
GeorgeKaotik: When is the next obscene records comp going to come out?
Miguel Shmuk: That's till next year. Right now we are going to release the society's parasites/ragtime revolutionaries split and the Matamoska LP I think.
GeorgeKaotik: Wasn't there talk about an all girl comp or something along that line?
Miguel Shmuk: Yeah. We are trying to look for girl bands to be in the comp. no luck yet besides Amenaza.
GeorgeKaotik: Awhile back you guys played with a big band by the name of Union 13 how did that go?
Miguel Shmuk: It could have been better. I mean all the bands played good sets, but nobody was into it. But it was fun playing with union13.
GeorgeKaotik: Are you guys going to tour anytime soon?
Miguel Shmuk: Jimmy is trying to book some show over at Europe. And we might do a little tour of cali.
GeorgeKaotik: What are some crazy things that have happened to you guys wile you were playing?
Miguel Shmuk: a fight broke out while we were playing once!!
GeorgeKaotik: Now to promote my site what do you think about the punk shit site?
Miguel Shmuk: Its a really good site. It helps out the La.. local scene.
GeorgeKaotik: What band do you like playing along side best with?
Miguel Shmuk: I've always liked playing with society's parasites. They always put on a good show. Their coo guys to be around with. And they always let us borrow their stuff. Not like other bands.
GeorgeKaotik: Have you gone through any line up changes?
Miguel Shmuk: In the past yeah. We had like 4 different singers before. But only one played like 3 show with us. After that he left. Singers are too cocky.
GeorgeKaotik: Well to rap this up any last comments?
Miguel Shmuk: Just thanx to anybody that supports us and our music. And remember.....visit www.shmuks.com



BAND REVIEW


The Shmuks are a punk band that started out like every other punk band recording demos in their garage. Nowadays, they have the oppurtunity to record at a studio. Their first official demo is called, "Tired of life" and contains 6 tracks that all sound good. "Behind The Scene," which sarts out with sort of a Ska beat, later on sounds more like their style. The best description of The Shmuks' style is displayed in the song "Who's to blame?" If you like that song, then you like The Shmuks. Their next demo, which is due out in December or January, has 5 new tracks and 2 old ones. The Shmuks have gone through some line up changes, but always end up with their 4 original band members. They have also gone through names such as "Anti Social" and "No Control" and "The Shmuks" which is obviously their current name. The Shmuks go as follow. Mars and Jimcity both write songs, play guitar, and sing. Yoshio plays plays the bass and does Backup Vocals. Miguel, the guy who built their website (http:www.shmuks.com), arranges the gigs and plays drums. These guys start their songs with dope beats and don't stop till the end throw some solos in there and you've got the perfect combination of music and lyrics that define punk.