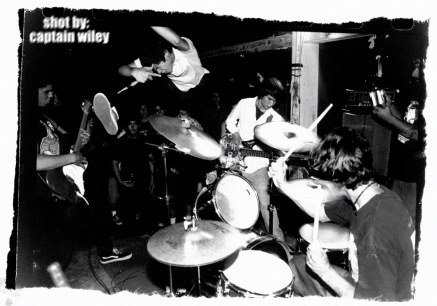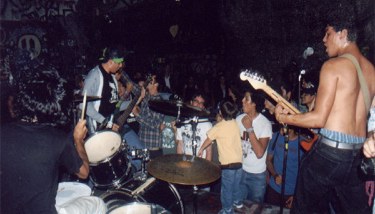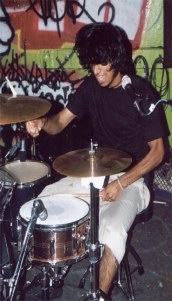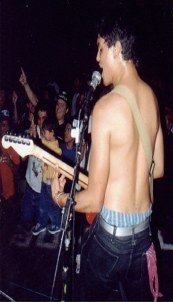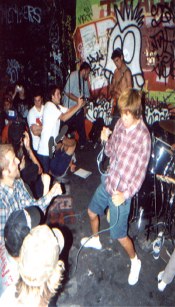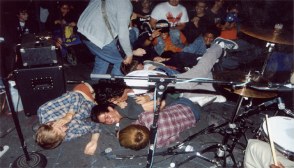 Mr. Herman the Blader Mr. Abraham Garcia Mr. Dingy Danny Diaz Mr. Alberto Gamboa
HitMeBack is about keeping a positive and conscious open mind. We are not here to rock out but to spread our words and rhymes. Many people express what they feel through art, poetry, hip hop, dancing, protesting, etc... We express our rages and feelings through our music, obviously. HMB is not just a band, we are a group of good true friends who decided to take that commitment of working together to somehow celebrate the existence of our youth. We plan to rock your wet willy world so stay tuned for the tunes. Keep that positive energy alive.....
HitMeBack in 2002
~-~-~-~-~-~-~-~-~-~-~-~-~-~-~-~-~-~-~-~-~-~-~-~-~-
The following list will grow and expand within time. As for right now, we thank the following people, bands and labels in alphabetical order:
Agitate 96 Recs, Andrew 666(Pignation), Apathetic Youth, Armed With Intelligence, Arts of the Underground Recs, the Attack, Auxilio, Aversión, Beanz, Ben Edge, Carlos & Marcy, Craigums(WHN?), Defecated Noise Project, Dystrophy, El Santo, Ernie & Felix(Life's Halt), Garth Brooks, Gorgeous George, the Jellyroll Rockheads, Kontraattaque, Living Dead Recs, Matt Average(Reagan ss), Max(625 Thrashcore), Miguel(The Shmuks), Mike Grito, Moister the Oyster, Nerd Riot Crew, New Kids On The Block, Out Of Vogue, Paul Podrido, Please Inform The Captain This Is A Hijack, RECORDS, Reggie & Alex, Scaredy Cat, Scholastic Deth, the Sk8aholics, Solrac, Urban Assault, Vanilla Ice, the Young Ones, Wee-Wee, 0737 Recs.
Did we forget you?