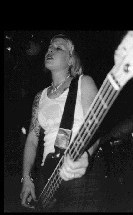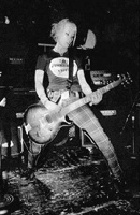 Brad Logan Jen Johnson Erica Daking Adam Zuckert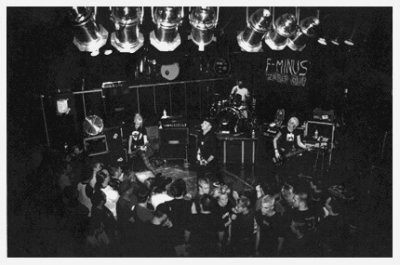 Huntington Beach, California based punk band F-minus (members: Brad Logan, Jen Johnson, Erica Daking, and Adam Zuckert) have been busy the past year touring Europe and the U.S., along with recording their new record "Suburban Blight". This will be the bands 2nd full length record on Hellcat Records. Tim Armstrong of Rancid, who signed and produced the bands first record, "F-minus" gave the band his blessing for the band to self-produce their new record "Suburban Blight" at Adamo's Recording in Garden Grove with house engineer/owner Jerry Adamo.
"Pretty much all the writing for the album was done at our friend Vinny's rehearsal space, Milano Music in the city of Orange,Ca."We had our very first practice there,and it was home to us" says Jen.
Before the first F-Minus 7" came out in 1996, the band had been playing shows in Orange County, and the rest of Southern California. But over the last 3 years they've been touring the US.F-minus will be on a month long headlining tour of Europe in March 2002. "We have a great time in Europe. The shows fucking rule! We plan on doing as much touring as we can this year, and the next."