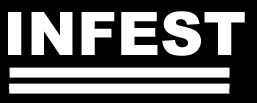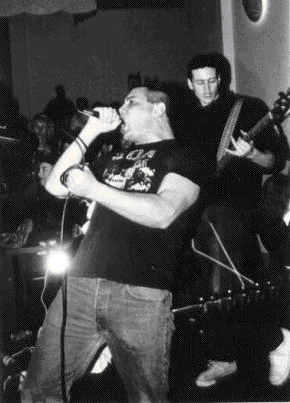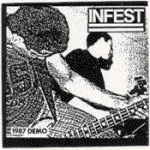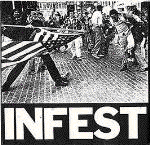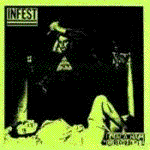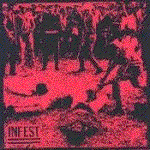 Infest were:

Joe, Dave, Matt, Chris


Infest came out of the Californian hardcore scene back in the mid-eighties. They were a straight edge band, and their sound was characterized by very fast and somewhat precise drumwork, accompanied by thrashy guitar sound and riffing, a slight metallic overtone and the most furious sounding vocalist ever. They have been one of the most influental fast thrashy old school hardcore bands to ever come out of the United States. The band is often claimed as a main influence to both many old school/youth crew bands as well as thrash/powerviolence bands. In fact, today they are still commonly referred to as one of the bands that molded the furious Californian hardcore style, which is nowadays often called "fastcore", "powerviolence" or "thrash hardcore". Some of the bands of that time included No Comment, Crossed Out and Charred Remains aka Man Is The Bastard, all well-established thrashy hardcore founders. Like them, Infest reached a level of aggression and intensity that only a few bands today can be compared with.

After listening to their music you will find it is easier to understand where so many bands have got their ideas from. Nowadays Infest records are pretty hard to come by, though some reprints and bootlegs have been made. Their only LP release titled "Slave" is still available in reprint through Deep Six Records and the Infest/P.H.C. split 7" is available as a reprint through Slap A Ham Records.



INFEST INTERVIEW
originally published in Hardware #9 - 1996
thanks to Andrew of Aversionline for sending it in

Well, since we don't know, when did all this start? Dates and places, original lineup, or have there been membership changes?
Around September of '86 we started jamming together with Dave on bass, Joe on vocals, Chris on drums, and me on guitar. We had a second guitarist, Rob, who played with us for the first year then dropped out after we did our demo.

It's pretty apparent that you're into the straightedge thing, but it seems you put more effort into your sound and image (for example your record covers and lyrics) than most bands these days. Do you feel you stand out above some of the typical/generic straightedge bands like Breakaway, Hard Stance, Chain of Strength, etc.?
Well, we play faster and don't do gymnastics or pose when we play live. I think Hard Stance rips it up and Chain of Strength are cool, but Insted and Breakaway are pretty cheesy. It seems most hardcore bands are going for a polished sound and package, we are really not into that.

Do you think that people write you off as just another straightedge band?
I hope not, because we are not a "straightedge" band. We're into hardcore, not straightedge. Everything always has to be extreme, which is kind of silly.

Do you listen to old D.R.I.? Because it really comes across in your sound.
I used to like D.R.I. a long time ago, but we're definitely not influenced by them.

How did you get everything together so fast, like the 7" and 12"? How did you hook up with a Swiss label?
It actually went slow. We were planning to do a 14 song 7", but I ended up trading our demo to Erich and Thomas of Mega-Wimp fanzine in Switzerland. They really liked us and offered to do a 7" for us. So we recorded 18 songs, 10 for our 7" and eight for them to press up. Later on, they offered to do a 12", so we put 10 of the songs on our 7" as a US pressing and all 18 on their 12" as a European press. Erich and Thomas are the coolest guys you'd ever want to know. They came out here in December and stayed for a week. Cool people.

What are the pressings of both the 7" and 12"?
The 7" is: 1000 black and 100 clear. Our 12" on Off the Disk is: 100 amber, 100 pink, 800 black. The colored vinyl came with posters. There might be a second press of the 12" of 500 on multi-colored vinyl, but we are not sure yet. The 12" and 7" are both sold out.

It's good that you are doing things independently. What do you think about the bigger labels moving in on the hardcore bands and how do you feel about the bands that join up with these labels?
I think it sucks! Some bands say they do it for the "wider" audience. Bullshit! It's a copout for more money and laziness, it's sad but true. Keep the "hard" in the "core".

What really bothers you in life?
Racism, sexism, violence, greed, poverty, and stupidity really bug me. It should bother everybody, but unfortunately it doesn't.

What is your favorite hardcore record? What is your favorite non-hardcore record?
My favorite hardcore record is the Negative Approach 7". Black Sabbath's first LP is my favorite non-hardcore record.

How important is the political side of Infest? The anti-sexist side?
Pretty important. We're just not into the jock thing.

Previous bands?
Our first band was F.Y.I. in like '83 with Chris on drums, Dave on vocals, Rob on guitar, and me on bass. We kind of sounded like S.O.A. That lasted about six months. Then O.Y.M. with Rob on vocals, Chris on drums, me on bass, and these two other goofs. That was like in '84 and lasted two years, just plain hardcore. Dave and I played in Deathdose in '85 - '86. Sick, demented thrash type stuff. Then both bands broke up and we started this band.

I've been told that one of you guys is starting a label. Is that true? If so, what band(s) will be on it?
Dave and I are going to put out a couple of bands for fun. The clear vinyl we put out was the first release and the second is a Confrontation EP, still available for $3.00. The third will be our second 7", out in August/September. Then hopefully a compilation 7" and my friends' band who don't even have a name yet, but they rip it up! Full on D.I.Y.! Our label's name is called Draw Blank!

Why aren't you guys lumberjacks?
That is what we were first going to call our label. Plus, we're bigger than your average band.

How did you get the name for "Fetch the Pliers"?
It's an inside joke from a long time ago.

Do you plan on touring anytime soon?
We'd like to play NJ, PA, NY, and CT, but it's too hard to say when.

Which scene do you think is producing the best bands these days and why?
There's a lot of good bands in California. England has a raging scene. Japan rages. The east coast has some cool bands. The scene in Europe seems to be less of a fashion show and less image oriented than the US.

If only one hardcore band of your choice could be resurrected, who would it be and why?
Siege! They were brutal, fucking raging!

Do you think the world is doomed, and why?
Sometimes I do, but I'd like to think that we will survive. But with the ozone thinning, overpopulation, fanatical countries, and pollution, it's hard to be optimistic.

Any future releases in the works?
Our new 7" should be out in August. We will be on a New Beginning six band, three 7" compilation in September. We just released a P.H.C./Infest split live flexi on Slap A Ham Records, run by Chris Dodge of Stikky.

Anything else you wish to enlighten us with?
Yes, do what you want, fuck the flocks, work out, fall in love, and be happy.

What would you do if I told you a bunch of us guys out here are praying we hit the lottery so we could fly you out here for one show?
That's rad. You guys rule!