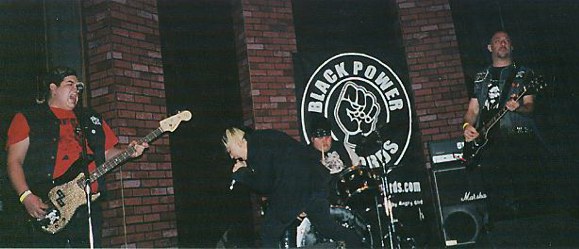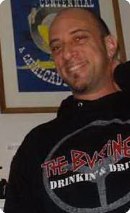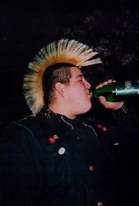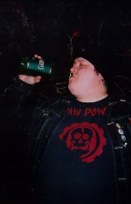 BIOGRAPHY
CURRENT LINEUP:
CHEESEBURGER MIKE- BASS BIG MIKE- DRUMS JAKE SMITH- GUITAR PIXIE- VOCALS
thretning verse WAS FORMED IN THE SUMMER OF 1995. IT HAS GONE THROUGH MANY DIFFERENT LINE-UP CHANGES BUT CONTINUES TO NOT DIE!!!!! 7 YEARS OLD AND NOW QUITE POSSIBLY STRONGER THAN EVER THE BAND STILL KEEPS THE MUSIC FAST, THE MICKEY'S COLD, THE SHOWS SCHEDULED, AND THE MOVEMENT ALIVE!!!!!
MANY MEMBERS HAVE COME AND GONE. SOME GOT KICKED OUT, SOME DECIDED TO LEAVE, AND SOME JUST DISSAPEARED. SO THIS IS A "FAMILY TREE" WITH EVERY SINGLE EX-MEMBER. NO MATTER HOW LONG OF THE TIME OR HOW SHORT OF THE TIME THEY WERE IN THE BAND. WE WANNA THANK EVERY EX-MEMBER FOR ALL THE GOOD TIMES...... WE HOPE YOU KEEP ROCKIN'!
PEOPLE PIXIE FORGOT TO DRAW INTO THE TREE-THE EXACT DATES ARE NOT CLEAR BUT WE KNOW THEY WERE THERE AT ONE POINT:
BASS: -NICK FIEND ( THE REVENANTS, DEMONIA, MINX) -CHAOS CHRIS
GUITAR: -MIKE VALLEJO ( CIRCLE ONE,THE STAINS, MINX, DECRY ETC.) -TONY FINGERS ( MEDIA BLITZ,THE UNDERTAKERS ETC.) -PSYCHO DYLAN ( THE PSYCH WARD, FOR REALS!)
RYTHM GUITAR: -CHRIS SERVIN ( FOUR PLAY, SUSPENDED ANIMATION) -LITTLE GABE ( HEY WHERE ARE YOU? YOU STILL HAVE ALL OF MIKE'S LITMUS GREEN SHIT!) -DEAN ( KINGSTON 12, THE VESSELS)