GEORGE KAOTIK
the owner and site designer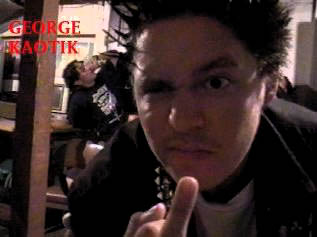 The Manager the site guy
Its me George . If you want to send me shit Email me at georgekaotik@imapunk.com But if you want to talk to me my aim screen name is GeorgeKaotik . Some of the bands I listen to are Blown To Bits, Nausea, Charles Bronson, Rambo, The Dickies, Ratos De Porao,The Forgotten, Statch and the rapes, Antischism, Crass, The Unseen, Blanks77, Narcoleptic Youth, The Fuckers, Conflict, U.S.Chaos, U.S. Bombs, Chaos U.K., Thulsa Doom, TSOL, Obituary, The Bips, The Virus, The Vomits, The Flatliners, Viginal Jesus, Asssuck, The Voids, Texas Terri and Ther Stiff Ones, Los Crudos, AllOut, 7seconds, 4 Skinds, Assfactor 4, Fleas and Lice, New Society Of Anarchists, RosinCore, Sinkhole, Skeptix, Stains, Strap Onz, The Cuffs, The Idle Threats, The GC5, The Nerve Agents, The Vectors, UxFxCx, Limp Wrist, A Global Threat, Ragtime Revolutionaries, SDD, LxCxCx, Nasum, Lack of Interest, Mace, Poison, President Busch, Reagan SS, And many more as shown on this site, I'm 16 and attend Marshall High school. I live in LA LA LAND LOS ANGELES California Some of my favorite sites are NIHILISM ON THE PROWL and PUNK ROCK RECORDS .Well some of the things I don't like are being called a poseur and I don't like homework I also dislike pop punk shit and women who control guys cuz that's not cool on a different note I don't have a job I live with my mom and I also listen to some metal black metal death metal metalcore thrash splattercore and grindcore I like bands like HM VIRUS hahaha MANDRAKE hehehe um Napalm Death, Dew Scented, Malevolent Creation, Hatebreed, and many more.I play also Play drums for a metal band called MIND WAR and IM starting up a punk band with some friends and Im in a punk band called the Violent Threats, Well that's all for now Latez....

Glitter Bug REVIEWS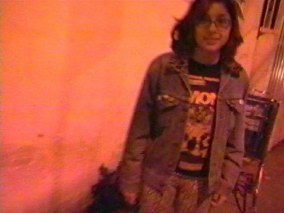 Hey im the newest addition to the punkshit family, as a reviewer (if u can call me that) well im Alex aka glitter bug. I'm a freshman at Downtown Business HS. I like going to gigs, sleeping being online and of course drinkin and smoking is always fun...I listen to everything from punk to rockabilly to oldies, I don't really care what type of music it is as long as it sounds good to me, it don't matter. Some bands I like are: the expelled, vicesquad, devotchkas, naked aggression, thretning verse, the germs, blitz, aus-rotten, oi! scouts, 4 skins, funeral dress, LCB, chron gen, buzzcocks, mau maus, black flag, broksys revolt, f-minus, special duties, X, the polecats, ny rel-x, oxymoron, sham 69, partisans, the meteors, anti-flag, skeptix, GBH, the slits, UK SUBS, necros, the unseen, the voids, x-ray spex, the runaways, ragtime revolutionaries, and the list goes on. So if u wanna get reviewed or whatever email me at vicesquad58@yahoo.com or IM me my SN is YoUsAhO76, lates



MIGUEL ....Mr.PIX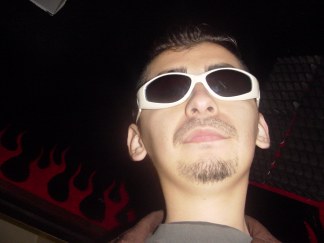 hey what's up everybody. My name is Miguel aka funanu. I play for a lil band here in echo park named "the Shmuks". I work for obscene records. I run their site and take Pix of their bands. im the one you'll see with a camera at local gigs. I like taking Pix. don't ask why. hmmm some of my fav bands are : the adicts, 999, tsol, vice squad, 4skins, angelic upstarts, slaughter and the dogs, GBH, the varukers, anti-nowhere league, blitz, oxymoron, the ramones,
the vomits, the business, voodoo glow skulls, rancid, dropkick murphys, dead kennedys,toy dolls skeptic, a global threat and lots more. i graduated frombelmont high school. And it sucked balls. I don't smoke but I do drink. Not at gigs. I like to keep it coo at gigs. I also do a lil BMX sometimes. So if your band needs Pix, hit me up. See ya in the pit!
JOHNNY SPECS ... REVIEWS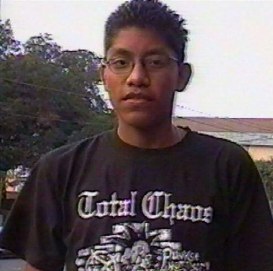 That's me Johnny. My friends either call me Johnny or Specs their choice, you'r choice. If you want to comment on a review or just want to get reviewed or just to talk reach me at
johnnyspecs@imapunk.com
. My favorite bands are A Global Threat, Blanks 77, The Explioted, Subhumans, All Out, Angel City Outcasts, Antidote, Back Alley Abortions, Bad Religion, Brosky's Revolt, Charles Bronson, Dead Kennedys, Defiance, Dumpster Junkies, GBH, Hollywood Hate, Los Crudos, Litmus Green, LxCxCx, Narcoleptic Youth, Operation Ivy, Oxymoron, Oppresed Logic, Spazz, Statch and The Rapes, The Smurfz, The Speds, Snap Her, The Virus, Thretning Verse, Toxic Narcotic, The Voids, Zero Bullshit, Total Chaos, The Unseen, The Dickies, UK Subs, Chaos UK, Dropkick Murphys, Ratos De Porao, The Vomits, Thulsa Doom, Ragtime Revolutionaries, Society's Parasites, The Nerve Agents, The Forggoten, Crass, TSOL, U.S. Chaos 1208, Clit 45, Pennywise, Sham 69, The 99's and many more, but I don't feel like going on. Shit I don't like are School, Pigs, and anything that has to do with following the law. Stuff I do like Music, T.V. and Piting. That's me laterz my AIM screen name is Johnnyspex.
TREBOR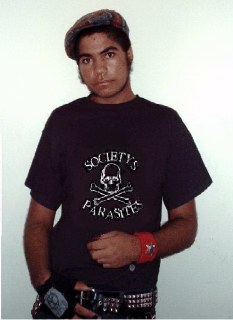 Reviewer and all around viewer
Hey my name is tree, I'm the web site's reporter if u wanna call it that.
I write the reviews for the bands on the site, u might know me and u might not, I'm a pretty cool guy I paint my nails black but I ain't gay my hair right now is half black and half bleached I'm gonna dye it half green soon. My favorite bands are: misfits ,oxymoron, ragtime revolutionaries, society's parasites, the casualties, exploited, the riots,7 seconds , son of sam, bouncing souls, funeral dress, gbh , good riddance , lcc, brosky's revolt, and the vomits, the things I like are cars, BEER, I , going to shows ,GETTING DRUNK OFF MY ASS!!!, fighting , smoking tobacco through my pipe, and my skull cap with the pins in it,
Things I don't like, the government, the system , the skools, preps, jocks, NOT HAVING BEER, nazis, ppl tellin me what to do, and the government did I already say that? Oh fucking well that's all bout me I think , oh yea I'm looking to start a band ppl , u want to start a band that's all about not giving a shit about other ppl and not gonna take any shit from the government, give me a holla.
Ask George Kaotik for my email address.


Latorz biznotches!!!

Tacky Tree




ABOUT THE SITE

As some people know this site has moved from place to place, for about 3 - 4 years. Well this is how it went, well first about 4 years ago I first did this site but toned down a bit called punk stuff I did this site at geocities. I liked it but the site builder was a bitch and it was slow as fuck. Soon after that I moved on to angelfire but it only accepted HTML I didn't know anything about HTML at the time so I just gave-up on angelfire. After I went over to homestead which was a good home for about 2 years the site builder was great and everything was going smooth and I was getting a decent amount of visitors, but the fucking homestead people decided to start charging and fuck that, I don't have money for a site. Then Peter Don't care told me about tripod so I check it out. Its was good till I kept on getting shut down for excessive bandwidth consumption. At time they would shut down this site for 24 hours. Now IM at fortune city and everything seems to be going well. The only exceptions are the fucking banners but yea its all good.